Phase 3: Reintegration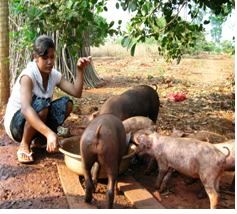 CCPCR works to reintegrate or repatriate children back into their family, community or other relevant institution after the recovery period in the shelter.
CCPCR is in contact with the girl's family in order to discuss and assess the current situation in the household and/or community; this pre-assessment is shared openly with the girl. If the situation is found to be stable and safe, CCPCR recommends reintegration with the family as the first option. We take measures to ensure children will be safe and happy to live back with their family and/or community and whatever situation that caused the child to become at high-risk or a victim of abuse is removed or resolved.
With the support of the reintegration officer, cases choose whether or not to return to their family. Should CCPCR's pre-assessment be unfavorable and/or the girl does not wish to return to her family, other options are sought out for them. If she decides to stay in Svay Rieng Province or Phnom Penh, CCPCR assists her in locating housing, finding employment, and other basic issues of reintegration.
CCPCR can also offer safe housing in the Transition House in Siem Reap to girls who are in the process of being reintegrated. The girls can work and get trained at the house in jewelry making and design, whilst receiving subsidized housing, assistance and support from staff. Read more about the Lotus House in the Latest News section.
CCPCR has also set up a Targeted Reintegration Support Fund for beneficiaries. Through this fund, each girl has $125 available to her. This fund, however, remains under the control of CCPCR and cannot be accessed independently by the girls. Following reintegration, each girl can request this money to be used on her business venture.
If the cases doses not wish to establish her own business, support is provided to find employment. CCPCR conducts pre-assessments with network partners, private businesses, and other institutions to find job opportunities for the girls. It is ensured these jobs are safe and that they are exploitation free.
Regardless of whether a girl chooses to return to their family or reintegrate into employment, CCPCR follows-up with monthly visits for at least the first three months after leaving the shelter project. The aim of this process is to analyse cases situation and ensure their safety and progress is being maintained. Certain circumstances may require more frequent follow up visits. Later on, when cases are more settled with the reintegration option, visits follow at six months, and continue as needed.
The main aims of the reintegration phase are to:
· Assist the girls to settle into normal society and independent life.
· Facilitate home visits with reintegrated children in order to counsel parents or relatives who have accepted the children.
· Assist children to find suitable work if necessary
· Provide children with financial assistance or equipment related to their skills, to assist them to earn income upon their departure from the shelter.
· Establish and manage revolving funds for children to access if they wish to start their own business. Children repay the loans once financially secure.
· Work collaboratively with the International Organization for Migration (IOM), Embassies and Ministry of Social Affairs, Veteran and Youth Rehabilitation (MOSAVY) to reintegrate those children trafficked into Cambodia from other countries.
Some results from last year's reintegration:
· 243 cases were reintegrated back with their families/community with support, school materials, clothes and basic needs.
· 132 cases were supported to attend public school, following reintegration, whilst they lived with their families.
· 13 cases were reintegrated to stay in our halfway house in Siem Reap, to work on a small sewing business
· 80 cases from the halfway house were employed in businesses, with entrepreneurs and factories.
· 185 job assessments concerning the employment of cases were made
· 305 cases received follow-up suport