Communications
We want to be as transparent as possible in our work with the public, donors, partners, beneficiaries, and other interested parties. Our basic financial information, governance structure, activities, and partnerships shall be open and accessible to public scrutiny in an effort to eliminate corruption and misappropriation of resources.
On the right are some internal documents if you are interested to learn about the strategyies we implement to fight the trafficking and exploitation of children.
*Coming Soon: CCPCR's 5 year Strategic Plan!
Read CCPCR's published Press Release
If you would like to know more information about CCPCR that is not covered here or you have any questions about our work, we would love to hear from you! Please email us: info@ccpcr.org.kh
Find us on Facebook at: https://www.facebook.com/WomanTrafficking/ and Twitter: https://twitter.com/?lang=en
-------------------------------------------------------------------------------------------------------------------------------------------------------------
Our Last Newsletter:
Last year we issued a desperate plea for help to keep the doors open at CCPCR's Rescue Shelter in Phnom Penh , which at the time was home to23 young girls rescued from human trafficking, violence and abuse. As a result of kind and generous donations, 2011 was an amazing year for us, not to forget our other projects that have been on-going so - THANK YOU!!
Did you know? There are an estimated 30,000 child commercial sex workers in Cambodia?
A little bit about us ....
CCPCR was founded in 1994, we are one of the oldest NGOs fighting for children's rights in Cambodia . Doors opened to our first shelter in 1995, in Phnom Penh and 16 years later we are still working hard towards a world in which children have equal rights and are free from all forms of violence. We use this experience we have gained over the years and together with partnering organizations have a mission to eliminate abuse against children in Cambodia , including child labor, trafficking, sexual abuse and commercial sexual exploitation.
Some achievements from our shelter in Phnom Pennh in the last year:
112 cases were rehabilitated in our shelter

A security guard, sewing teacher, reintegration officer, nurse and new shelter manager were hired.

Supported 2 girls who graduated from high school to attend university!

Provided counseling to 33 survivors families (as well as survivors themselves)

Supported 68 cases to be reintegrated back into society

Paid for 73 survivors to visit their families during the holidays

We extended the lease on the property for another three year
Our Needs
The shelters are slightly worn but they have great potential. Here are some items on our Wish List needed to improve our services:
Need

Details

Cost

Paint

Bright, inspiring and happy colours are needed to paint the shelter and outside area

$65

Yoga

A qualified teacher from Kundalini Yoga can give weekly classes at the shelter. Yoga is used as a creative arts therapy and a spiritual awareness-practice to provide support, empowerment & relaxation

$30 per class

A garden and playground

We want to build a garden and small vegetable area to teach the girls how to grow vegetables. We need a playground for the younger children.

$215

Library development

Books, shelves and education materials and needed. At the moment a rotation system is setup for studying with the few resources available

$115

Bedroom materials

Lockers, bedding, pillows, sheets and curtains are needed to help make the bedroom a place where survivors feel safe and comfortable

$138

Health insurance

For staff and residents

$40 per adult,

$30 per child

Tile the shelter's floor

Rainy season is ending but the water remains as does the dirt, bugs and dampness!

$235

Psycho-social specialists

We make referrals for cases with severe trauma and psychological problems to receive counselling

$20 per session

Dance teacher

To teach the girls how to dance, especially Apsara (traditional Khmer style) as a way to reconnect with the body on different levels and to help feel their right to express themselves in safety

$70 salary per month
The Cambodia government recently issued standard requirements for all shelters, this means that our costs will increase with double the number of girls, double property rent, coupled with the rise in local food prices, and major improvements needed we need $105,000 to sustain operations for 2012. This breaks down to $175 per child per month (based on accommodating 50 children).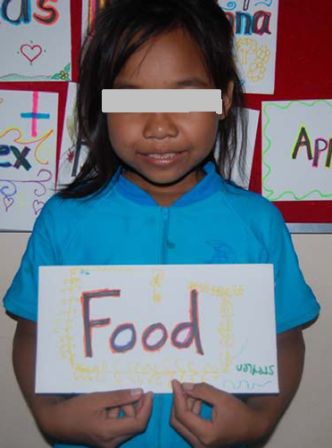 What are you grateful for?
Our progress is exciting but can you help us keep changing young lives for the better?
The long term impact for these young girls is immeasurable and any donation of any amount is greatly appreciated. Please help us to keep children out of brothels and in schools.